Profil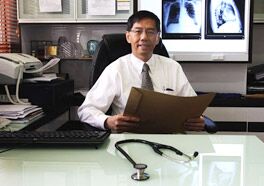 A/ Professor Philip Eng
MBBS, National University of Singapore, 1984
Masters of Medicine (Int Med), Singapore, 1989
Fellow, Academy of Medicine, Singapore, 1993
Fellow, American College of Chest Physicians, 1994
Fellow, American College of Physicians, 1996
Fellow, Royal College of Physicians, London, 2007
Profesor Philip Eng lulus dari National University of Singapore pada tahun 1984 dan sesudahnya menyelesaikan Masters of Medicine (Penyakit Dalam) pada tahun 1989. Kemudian ia mengikuti pelatihan lanjut di Pengobatan Respiratori & Perawatan Kritis (Pulmonary and Critical Care Medicine) di Cleveland Clinic Foundation dan University of California, San Diego, kedua-duanya di Amerika Serikat. Pada tahun 1997, ia ditunjuk sebagai Kepala Departemen Pengobatan Respiratori & Perawatan Kritis di Singapore General Hospital pada usia 37 tahun.
Dalam masa jabatannya selama 9 tahun, Prof. Eng membangun salah satu departemen terkuat di daerah ini dalam Pengobatan Respiratori & Perawatan Kritis dengan kaitan kuat dengan Radiologi Dada, Bedah Toraks dan Onkologi Toraks. Minatnya adalah di bidang Kanker Paru-paru, Bronkoskopi (baik fleksibel maupun rigid), Perawatan Intensif dan Radiologi Dada. Ia telah melakukan lebih dari 200 bronkoskopi rigid, penyanggaan (stent), laser NdYAG dan Foto-koagulasi Plasma Argon.
Prof. Eng telah mempublikasikan lebih dari 120 artikel dan buku yang ditinjau oleh rekan-rekan sekerjanya. Pada tahun 2005, ia mempublikasikan buku "Chest Xrays: Illustrated with 100 cases" (Foto SinarX Dada, diilustrasi dengan 100 kasus), dalam kerja sama dengan Cambridge University Press, Inggris yang terus terjual lebih dari 5.000 eksemplar dalam 2 tahun.Ia telah mengajar di banyak negara, termasuk AS, China, Jepang, Korea, Australia, India, Malaysia, Brunei, Indonesia, Hong Kong, Thailand, Myanmar, Vietnam and Filipina. Ia telah melatih banyak dokter dari China, Filipina, Makau, India, Indonesia dan Hong Kong. Pada tahun 2007, ia menjadi Presiden Kongres di Kongres Bronkologi Asia Pasifik ke-2, yang diadakan di Singapura.